Rent to Own and Financing Plans
You've finally found the perfect solution for your equipment storage, car protection, or vehicular coverage issues—a durable, quality metal building from Infinity Carports. There's just one problem—you're not ready to pay for a steel building in full. But no worries—at Infinity Carports, we've got you covered you with our flexible financing plans.
Available Financing Options at Infinity Carports
We get it. In fact, we've been there. We know how vital a durable, long-lasting metal building can be for your business, home, or project—and we know how, sometimes, paying in full all at once for something you need just simply isn't doable. That's why at Infinity Carports, we've mindfully crafted two different financial payment plans that make your dream of owning a metal building easier than ever to attain!
When it comes to owning your ideal metal building for your specific purpose (whether it's agricultural, commercial, residential, or recreational), we're here to make it easier than ever. Sure, we provide you with the best quality steel buildings in the industry, and, of course, we offer you as many customizable options as possible. But we do more than just create a gorgeous, durable, and long-lasting metal building that's going to solve all your problems. We also make it easier than ever for you to purchase your ideal metal building at a pace that makes sense for you!
Our financing process is simples as can be! We offer two options—financing plans directly through us or rent to own options with a monthly contract (which can be paid off in full at any time without early payment penalties).
Financing Metal Buildings
Our financing program is easy as can be—and because we've partnered with GreenSky to offer financing for all metal buildings within their approved credit, it's directly through us! Our financing program is all about providing you with the convenience of receiving your metal building while paying at your own pace. We offer speedy approval, flexible payment options, and of course, an easy and direct plan that won't include any hidden fees, rates, or costs. With us, you can count on a transparent, seamless financing process that's going to leave you satisfied, but also, will get you the metal building of your dreams a quickly as possible!
Rent to Own Metal Buildings
Our other payment option for our metal building financing includes our rent to own metal building program. Infinity Carports rent to own option includes instant approval (apply today to see what we mean!), doesn't require a credit check (for up to $15,000), and offers you easy-to-follow month-to-month plans to ensure an affordable, on-time payment schedule. The best part? You are more than welcome to pay off your metal building in full at any time throughout the agreed-upon payment plan period—all without the fear of early payment penalties. Like our financing plans, we're all about transparency, directness, and your satisfaction—that means we're going to do everything in our power to ensure you're getting the metal building you want, all while providing you with an experience that makes you smile.
Why Finance with Infinity Carports?
So, why should you finance with Infinity Carports? Because, at the end of the day, what matters most to us is getting you into that metal building of your dreams. No matter what you're looking to use your metal building for—whether it's commercial, agricultural, residential, recreational, or a combination of something entirely different—we believe that you deserve to have your metal building as soon as possible.
Our payment plans are designed to give you the power you're looking for—to get you the metal building you need immediately without the stress of needing to pay off your entire metal building all at once. With our easy-to-follow, affordable, and direct plans, you're one step away from getting into the metal building of your dreams!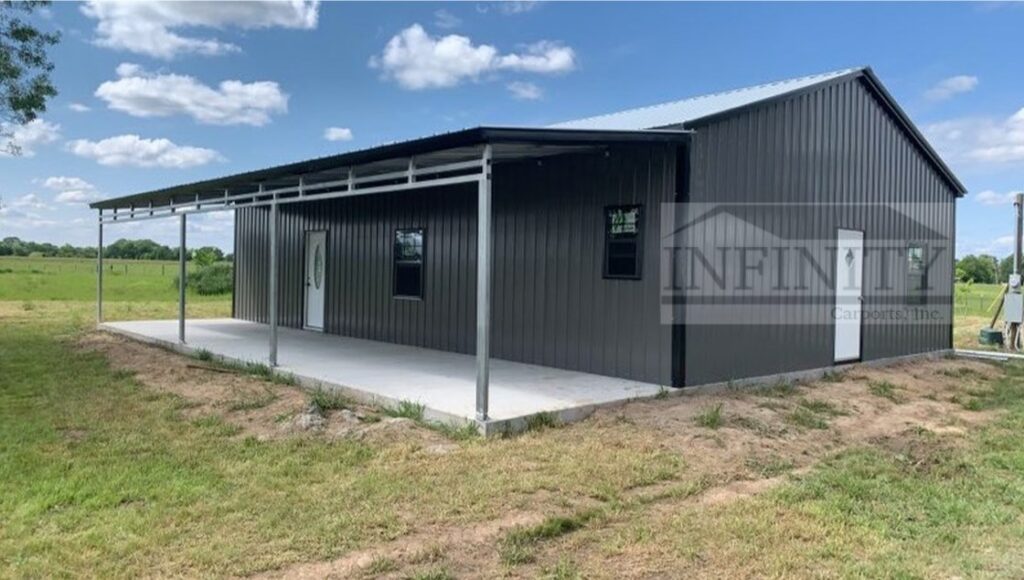 At Infinity Carports, we can offer you more than just affordable payment plans. We can also offer you the most quality steel buildings (that are durable, long-lasting, and virtually maintenance-free), price match guarantees (to ensure you're always getting the best deal out there), and even the quickest turnaround times in the industry.
Are you ready to invest in your metal building? Get in touch with our professional team at Infinity Carports on (844) 324-1423 for a quote, to answer your questions, or to apply today for the financing plan of your choosing!
Want To Know More?
Connect With Our Experts & Get Started With Your Dream Metal Building Project Today!