The Best Commercial Metal Buildings in the United States
Across the United States, the popularity of and demand for commercial metal buildings is rising at an astounding rate. In fact, of the commercial structures built each year, up to nine out of 10 are of the steel-frame variety. The reasons are obvious—they're versatile, can be designed to have pleasant aesthetics, and are very easy to build in a variety of sizes. Read on to discover even more advantages that make commercial metal buildings the go-to solution for businesses across the United States!
Available Commercial Steel Buildings at Infinity Carports
Infinity Carports' manufactures a large variety of commercial metal buildings to fulfill any need a customer may have. No matter what your intended use, required size or special requests may be, Infinity Carports can make your dreams a reality.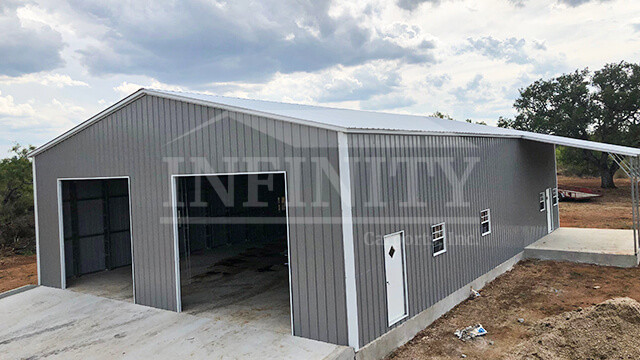 Workshop Buildings
Workshop buildings are one of the primary examples of the types of commercial steel buildings Infinity Carports offers. These buildings are exceptionally durable, giving them longevity that will facilitate your work for years to come. They are incredibly customizable, allowing you to choose everything from number and types of entrances to the color of the building. Unlike wooden structures, metal workshop buildings are resistant to pests—just one example of the low maintenance and upkeep commercial metal buildings require.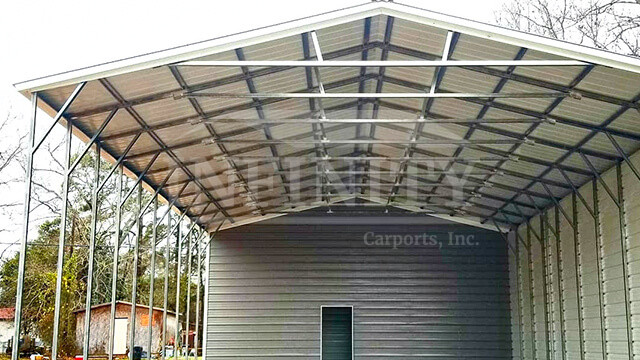 Clear Span Buildings
Another fantastic commercial steel building option is clear span buildings. These offer open space without obstructions, such as support posts. For those who require a large amount of vertical clearance, clear span buildings are the way to go. Like all commercial metal buildings, clear span buildings are durable, require little to no maintenance, and are very easy to build. They even feature the ability to be quickly taken down and relocated, giving them unheard-of flexibility in the commercial industry.

Why Buy a Commercial Building?

Flexibility
Commercial Metal Buildings offer impressive flexibility, allowing you to utilize yours for any number of purposes. From simple storage to customized workspaces, the flexibility of metal buildings is hard to match.

Cost-Effective
Because commercial metal buildings are so easy to manufacture and construct, they are affordable while still being very durable.

Toughness
It is that durability and toughness that truly shines through, especially in areas of extreme weather. The ability to scale strength according to your needs is a tremendous benefit.

Easy to Maintain
The easy maintenance echoes this toughness and further adds to your financial bang-for-the-buck. By requiring little to no upkeep, commercial metal buildings do not demand much of your time or money to maintain!
Metal Buildings Roof Styles at Infinity Carports
Roof styles determine the visual appearance of your commercial metal building, of course, but also affect the strength and functionality of your structure, making your choice an important one. A-Frame (Affordable)
A-frame horizontal roofs are similar to regular roofs, but incorporate more framing, giving them added strength and better suitability for more intense climates. They sit in the middle of the pricing spectrum, making them a cost-effective option for many buyers.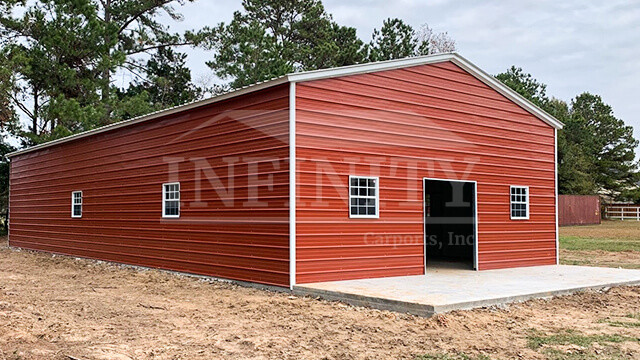 Vertical Roof (Best)
The strongest—and most expensive—option is the vertical roof. Commercial metal buildings with this roof style are the strongest and, therefore, best suited for geographic locations that experience high winds, heavy snowfall, or other extreme weather.
Increase the Value of Your Business by Adding A Personal Touch
It's easy to get caught up in the functional side of the business, especially when considering a commercial metal building, but appearances and presentation matter—just ask your customers! Infinity Carports offer a huge variety of customizations that can improve the aesthetics of your business and increase its overall value.
The size of your metal building is the most basic customization that can be made, and Infinity Carports gives you complete control over width, length, and height. Choosing a roof style is the next logical step in the customization process, as it will drastically change the appearance of your building, not to mention its strength. You also have control over the color of your building.
Some of the most minor changes you can make are what makes the building yours and allows it to function as you need it to. Adding garage doors, walk-in doors, and windows can work wonders for the appearance and usability of your commercial metal building.
The Applications for Metal Buildings are Limitless
Commercial metal buildings are versatile and can be used for a multitude of purposes. Aircraft hangers are a common use of commercial metal buildings, as they must be large enough to house such large machinery and provide protection from the elements. Self-storage facilities are another example of commercial metal buildings functioning as unbeatable storage solutions that can be scaled according to one's needs.
Shopping centers and retail stores can be contained within commercial metal buildings, as well, since they require large, open spaces that can be customized to the necessary specifications while retaining the square footage necessary to house places of business.
Restaurants and wineries show that commercial metal buildings work well for those in the food industry, whether they're working in bulk or embracing a more artisanal approach. Whether it's a massive communal dining area or a quaint local restaurant, commercial buildings are a great option for many in the food industry.
Even medical clinics can benefit from using commercial metal buildings. The low maintenance makes keeping a clean environment easier, while the scalability of metal building sizes permits clinics of any size to thrive.
Commercial Metal Building: Sizes and Prices
While you can order a custom size, commercial metal buildings also come in standard sizes ranging from widths of 30' to 80' and lengths of 40' to 100' or more. Many factors—including size—influence price, but the starting point is typically around $7,000.
Let Us Help You Build Your Commercial Metal Building On-Time & On-Budget
Infinity Carports is the premier metal building manufacturer in the United States, and this is because of our experience and high-quality products with exceptional customer service. For more information or a free quote, please call our knowledgeable building specialist at (844) 324-1423.
Want To Know More?
Connect With Our Experts & Get Started With Your Dream Metal Building Project Today!