Clear Span Buildings: More Versatile for Residential, Commercial, or Agricultural Use
Having an enclosed space on your property is exceptionally valuable, no matter what it is you plan to use it for. From a home office to storing large agricultural equipment, such a versatile space is worth the investment. One of the issues that can arise when you have a need for large, open space, however, is the interference of internal supports such as walls and columns.
Clear span metal buildings solve this issue by removing such internal supports, giving you a wide-open space to utilize to its maximum potential. If you want the ability to truly use every inch of your metal building, a clear span building can grant you that possibility!
As such, it's no surprise that clear span steel buildings are rapidly gaining popularity in the United States. Read on to discover the many other advantages of clear span buildings and how they can benefit you!
Clear Span up to 70′ Wide
Clear Span Metal Buildings Function in a Variety of Ways
No matter what your needs, clear span metal buildings can meet them. Clear span buildings excel in agricultural, commercial, and residential uses thanks to their impressive versatility.
Storing various items and equipment, regardless of type and size, is one area where clear span buildings truly shine. Because of their internal structure, clear span buildings are able to seemingly multiply space, making them perfect for use as a machine shop or other manufacturing business. They also work well as warehouses thanks to their tremendous usable space.
Smaller clear span buildings lend themselves well to being residential storage sheds or even carports. Thanks to the customizable size of clear span metal buildings, they can also function as garages, from single to multiple car sizes!
For those who are immersed in the agricultural world, clear span metal buildings can be a game-changer thanks to their ability to house livestock, store harvested crops, or protect large, expensive farming equipment from the external world.
Businesses from any field can utilize clear span buildings to store equipment and resource or even add extra working space. Clear span buildings are incredibly cost-effective, especially when their flexibility is factored into the equation!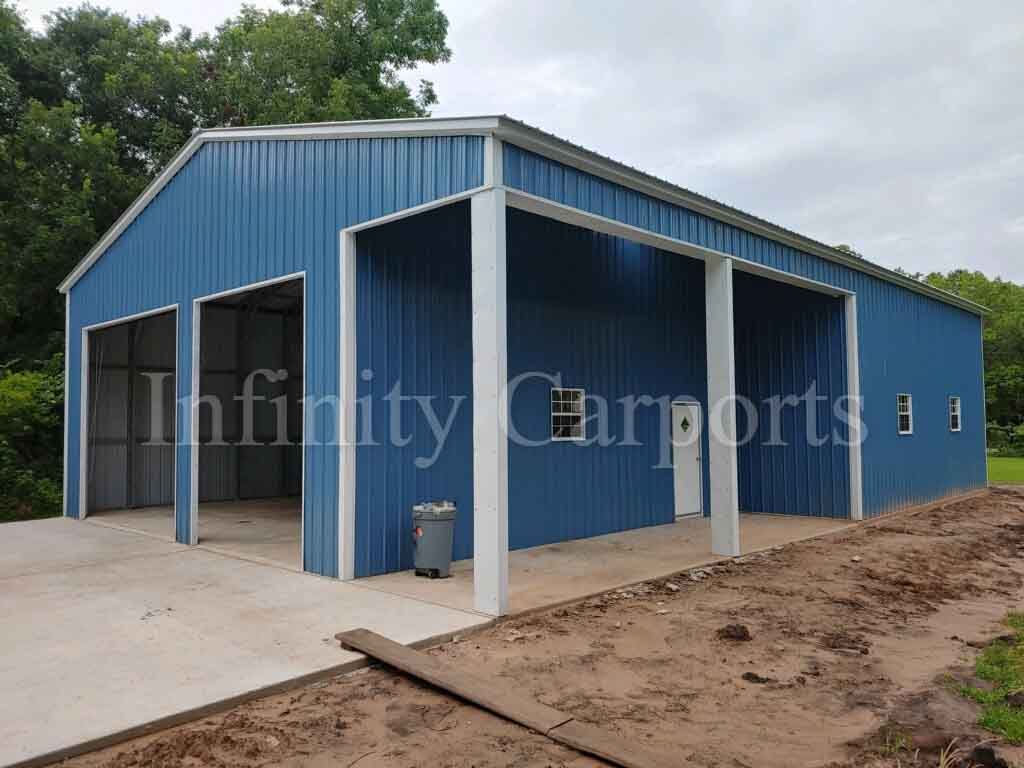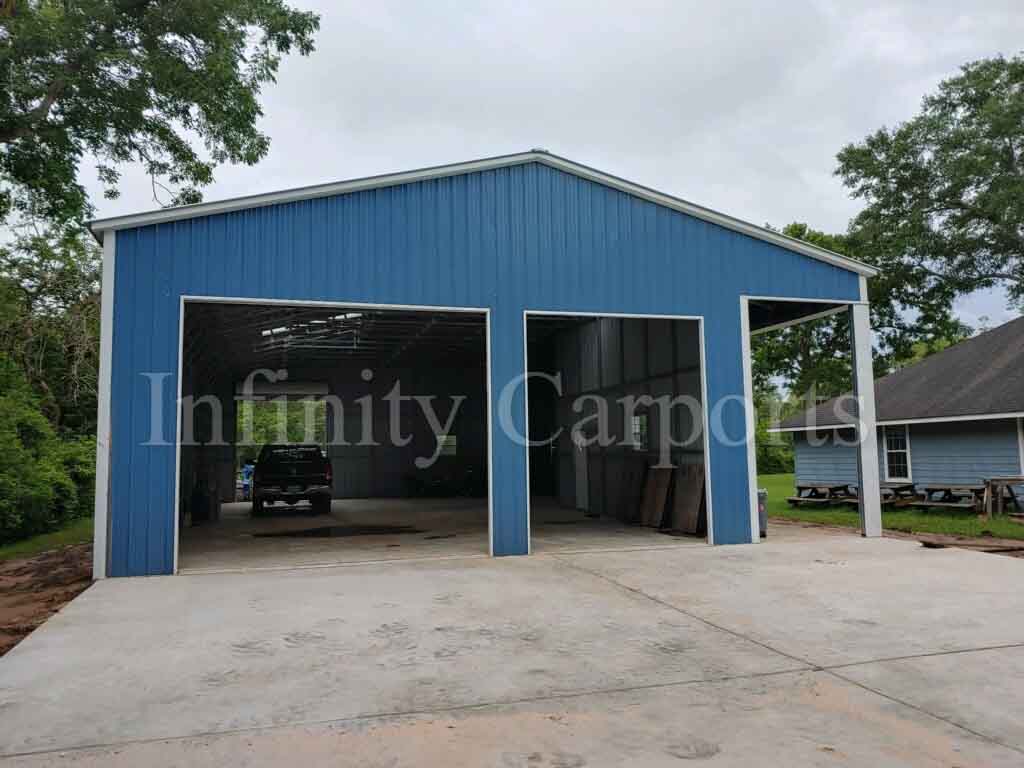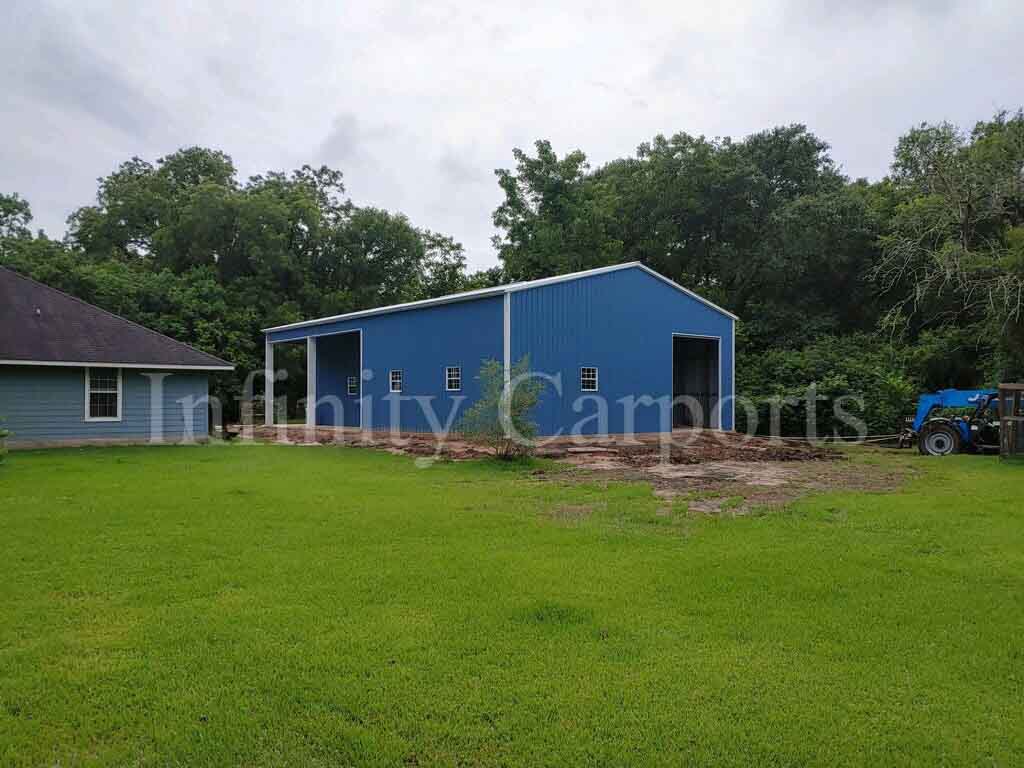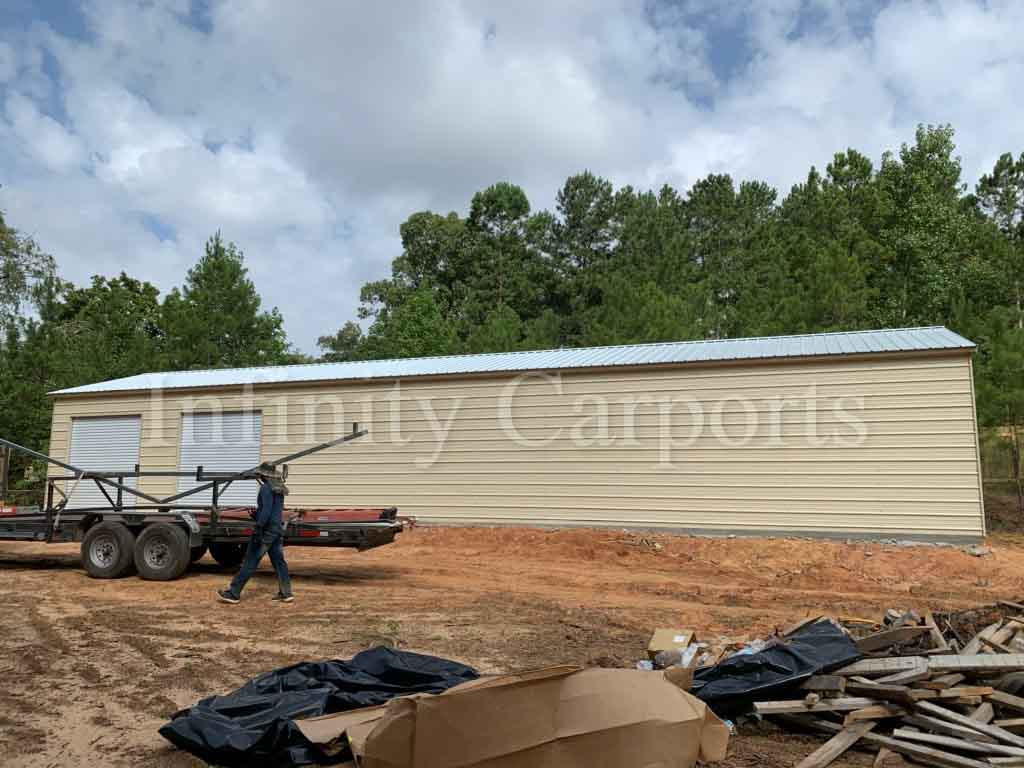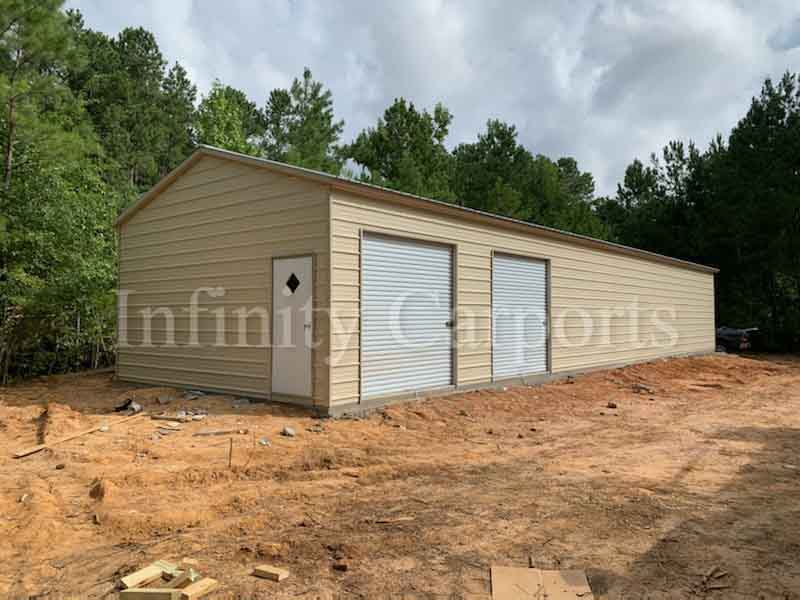 Benefits of Investing in a Clear Span Metal Structure
Clear span metal buildings are versatile investments, especially when purchased from Infinity Carports, the leading manufacturer of metal buildings in the United States. The benefits of these buildings are numerous and can change your workflow and property for the better!
Clear span buildings feature a far quicker installation time than traditional wooden structures, allowing you to put yours to use in hardly any time at all! This ease and speed of construction does not mean that clear span steel buildings sacrifice durability, either. In fact, Infinity Carports clear span buildings are made with the best steel and quality workmanship, making them as durable as they are flexible.
Speaking of flexibility, clear span metal structures are as convenient as buildings get! They allow you to utilize the entire interior without the hindrance of posts and columns. This maximized functionality means that clear span buildings are exceptionally cost-effective, too.
To wrap all of the amazing benefits of clear span buildings from Infinity Carports up in an aesthetically appealing package would truly be the icing on the cake, right? Well, that's exactly what Infinity Carports provides! These buildings are sure to fit in beautifully with the rest of the architecture in whatever area they are constructed!
Personalize Your Clear Span Structure
Another tremendous advantage of clear span buildings is their ability to be customized to your liking. Infinity Carports allow you to influence nearly every aspect of your building, including the width, length, and height to fit your needs and intended uses.
You can also dictate the color of your building, its roof style, and more. Not only does this ensure that your building will work for you, but it also shows the level of care that Infinity Carports has for customers. If you can dream it, Infinity Carports can provide it—especially if you already have a leveled site for installation!
How Much Does a Clear Span Steel Building Cost?
There are many factors that influence the cost of your clear span building, most of which are related to the customizable options that were touched on. However, your location will also factor into the cost. For example, will the installation be easy? Does your area require certain certifications? These factors can drive the price upward!
The starting range for clear span buildings is about $4,000. From this point, the price will fluctuate based on your customizations!
Order Your Ideal Clear Span Metal Building from Infinity Carports
If you're looking for the best clear span building, choose to buy from the best manufacturer in the United States, Infinity Carports. We offer versatile, cost-effective buildings that are energy-efficient and require little to no maintenance.
If you're interested in learning more about the strongest, safest, and smartest clear span metal buildings or want to receive a quote on your dream structure, give our experts a call today on (844) 324-1423!
Want To Know More?
Connect With Our Experts & Get Started With Your Dream Metal Building Project Today!