Raised Center Barns : Structures That Are Both Striking & Functional
If you've been searching for popular barn styles, you've probably seen the phrase "raised center barn." What's a raised center barn, you ask? Also commonly referred to a raised center aisle barn or Carolina barn, these three-section metal barns are defined by having a raised center section along with shorter "wing" sections added on either side. You can choose to leave any of the three raised center barn sections open, or make the whole barn a fully-enclosed structure. Because of a design that's both striking and functional, the raised center or Carolina barn is one of the most popular barn styles in America.
Barns: Perfect Solution for Your Storage Needs
We probably don't need to define what an "barn" is – it's a place to keep all your stuff! If you're like many Americans, your home, work, or farm equipment may be starting to outgrow – or has already outgrown – the space you have available for storage. A metal barn is an ideal solution for your growing equipment and other storage needs. These quality steel structures from Infinity Carports are rugged, flexible, and built to last!
Use Your Raised Center Aisle Barn Any Way You Wish
Raised center aisle barns are designed and engineered to be adaptable, so they are really able to fulfill a wide variety of needs on the farm, including being a great place to shelter horses and/or livestock. Here are a few ways that folks commonly use a raised center aisle barn: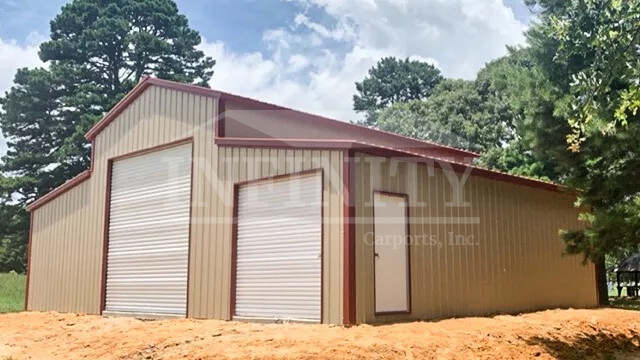 What About the Roof Styles?
Where a more traditional horse barn often has a regular or rounded roof, a raised center barn or Carolina barn usually has a roof that's built on an A-frame structure, with roof panels that are either oriented horizontally (boxed eave roof) or vertically (vertical roof). What's the difference, you ask? Boxed eave A-frame roofs and vertical roofs look fairly similar from a distance, but the difference is really in the engineering. Unlike the horizontal paneling of a boxed eave roof, a vertical roof has paneling that runs up and down. The advantage of vertical paneling is that rain, snow, and debris are channeled more easily off of the roof and away from your building. Another advantage of a vertical roof is the fact that it comes with more steel reinforcement, so it's really the sturdiest roof style option.
You Can Customize Your Barn Any Way You Want
Prefer the economy and look of a boxed eave roof? You can have one. Would you rather your barn enjoy the advantages of being equipped with a vertical roof? We can do that too. You can also customize the three sections of your raised center barn however you like, including leaving the sides and ends open, fully or partially enclosing the sides, choosing to add gables to the open ends, or going with a fully-enclosed barn on all sides and ends. You want color options? We've got 14 colors you can choose from for the roof, sides, and trim. Need more customization options? Just reach out to us about what you need; at Infinity Carports, we craft every building to order!
Size and Price Options
We offer competitive prices on all of our metal structures, but the specific price of your raised center aisle barn will really depend on a few factors like the size dimensions you choose, the gauges of steel you select for the framing and paneling, your roof style (boxed eave or vertical), the enclosure and gable options you choose, and what types of access you want your barn to have (garage doors, walk-in doors, windows, frame outs, etc.). And as far as size options go … you've got options! We can build your center section up to 40' wide (or greater with a vertical roof), and the lean-to side sections can be up to 12' wide each (or greater with a vertical roof).
Don't Wait – Get Your Dream Barn from Infinity Carports Today!
Our name is Infinity Carports, but metal carports aren't all we do. We offer all sorts of barn and other custom steel structures too! Here are some things that set Infinity Carports apart:
If you're ready to get started, give us a call at (903) 765-2057, or email us at infinitycarportsinc@gmail.com.
Barns
Applications for Barns
People have been using traditional barn buildings to store equipment for generations. When it comes to one of our versatile steel barn buildings, though, the potential applications for storage and other uses are only limited by your imagination:
What Are Your Customization Options?
You can really have your metal barn any way you want it. Choose the building look and design you prefer, including the style of roof. The regular roof has a classic, rounded "barnlike" look, and is the most economical option. The boxed eave roof comes on an A-frame design, and is a sturdier option. The vertical roof is our premium option, which includes additional reinforcements and roof paneling which is oriented vertically for better flow of precipitation and debris off of your roof. You choose the building dimensions that work best for your needs, and you also decide about whether to leave your barn open, partially enclose it, or fully enclose it. You can also place garage doors, walk-in doors, frame outs, or windows wherever you decide. Choose from 14 color options for your roof, siding, and trim, too. Ready to talk about your specific building preferences and customization options? Just give us a call at Infinity Carports and tell us what you need; we can work with you to design a barn that will meet all your needs.
Benefits of Owning a Barn
A steel barn from Infinity Carports is a much more reliable storage solution than a barn made from wood, aluminum, or other materials. What makes one of our sturdy barns a preferable choice? Consider the following: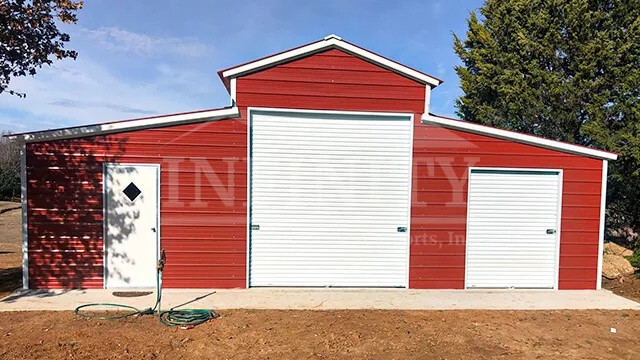 What Does a Barn Cost?
Thanks to our use of quality materials and the latest in manufacturing technology, Infinity Carports can offer durable, long-lasting barns at truly competitive prices. The cost of your custom building will really depend on a few factors in particular, including the dimensions of your building, the roof style you choose, your selected gauges of steel for framing and paneling, your particular location, and other customization options you select. And here's another savings advantage you get by doing business with Infinity. We deliver and install anywhere within our service area, all at NO EXTRA CHARGE! Plus, you don't have to invest in pouring a concrete or asphalt foundation if you don't want or need one. We can install and anchor your barn on almost any level site surface, including gravel or plain ground.
Let Us Help You Get the Barn You Need!
Our name may be Infinity Carports, but metal carports are just a portion of our steel building portfolio. We also offer barns, other barn styles, garages, workshops, and more. Here are some reasons why Infinity Carports is your best steel structure solution:
If you're ready to get started with Infinity, give us a call at (903) 765-2057, or email us at infinitycarportsinc@gmail.com.
Want To Know More?
Connect With Our Experts & Get Started With Your Dream Metal Building Project Today!