We Offer The Best Metal Barns.
Look, we get it—you work hard. Whether it is for a living or because you are passionate about something you enjoy, you always put your heart and soul into the task at hand. What you need is something that works as hard as you do to protect your livelihood and provide a great space for your passions.
Metal barns are seeing a boom in popularity because they do just that. From housing livestock to acting as a home office, the versatility and durability of prefab metal barns are hard to beat—especially at the affordable price point.
So, what exactly sets metal barn buildings apart from other options? We're glad you asked! Just read on to discover the many benefits of metal barns and what makes them right for you!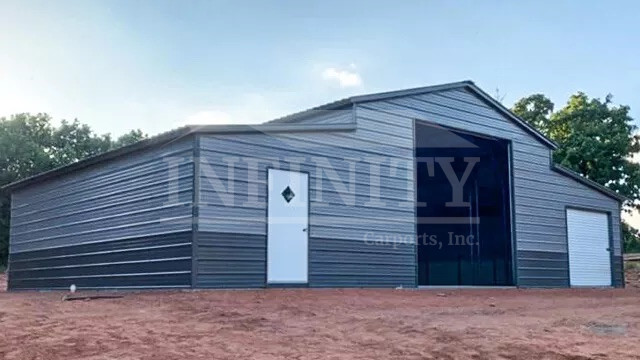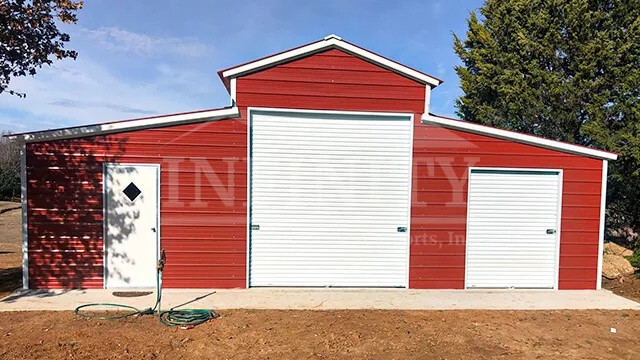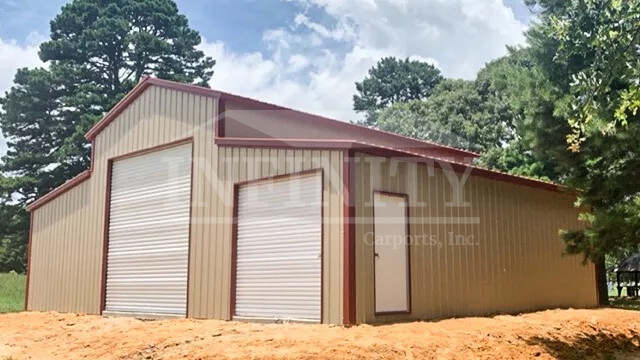 Types of Steel Barns
Part of what makes metal barns so versatile is the variety of shapes and sizes in which they are available. As the premier steel building brand in the United States, Infinity Carports has multiple affordable options to fit any need you may have.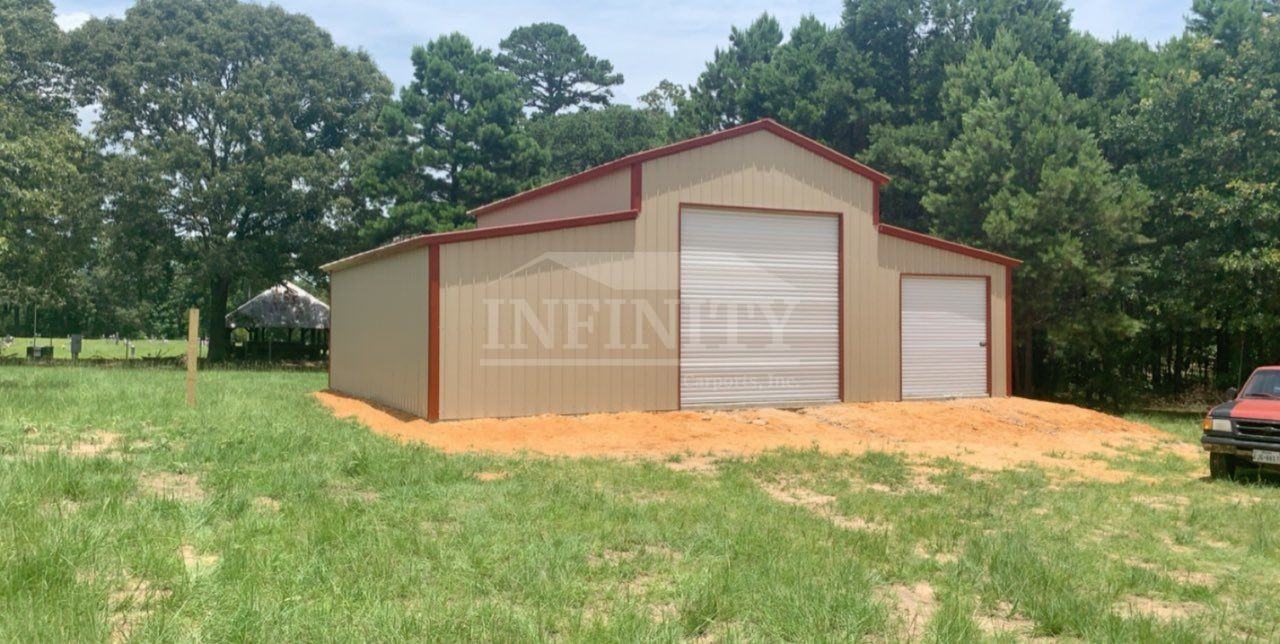 Raised Center Barns
Raised center barns are shaped exactly as you might imagine—a taller middle section flanked by two shorter lean-tos—allowing you to store items of various sizes, utilize the different sections for specific purposes, and otherwise embrace the versatility that accompanies such a unique design.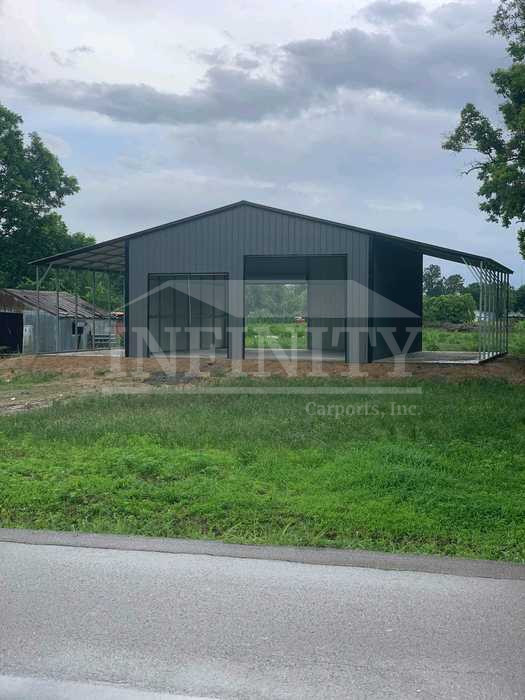 Straight Roof Barns
Straight roof barns share the larger center feature with raised center barns but do so with a continuously sloping roof—hence the name. This uniformity makes them available at a lower price point thanks to the ease of production and installation.
Why Buy a Prefab Metal Barn?

Cost-Effective
Infinity Carports produces cost-effective metal barns that feature exceptional quality and long-lasting durability.

Multi-Purpose
Metal barns are extremely versatile, making them a go-to solution for a variety of uses. You can transform a metal barn into just the space you need, perfectly!

Quick To Assemble
Because steel barns are prefabricated, they are quick to ship and even quicker to assemble, meaning you will be able to put it to use in almost no time at all.

Virtually Maintenance Free
Thanks to the virtually maintenance-free nature of prefab steel barns. Once they are constructed, they are ready to be used year after year with little to no upkeep!
Metal Barns Roofing Styles
As you have likely gathered, barn buildings come in many shapes and sizes. The variations do not end there, though—they also come with various roofing styles. Choosing a roofing style will depend on your particular needs, of course, but also on your geographic location, so be sure to read the following before you choose one!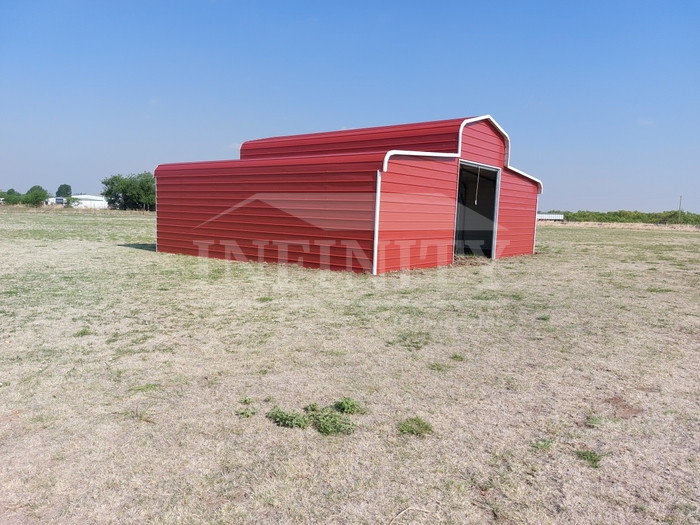 Regular Roof Style Barns (Good)
Regular roof style barns feature horizontal panels that curve at the corners, making them very affordable and easy to install. Their simplicity makes them ideal for those living in climates that do not see heavy snowfall or intense winds.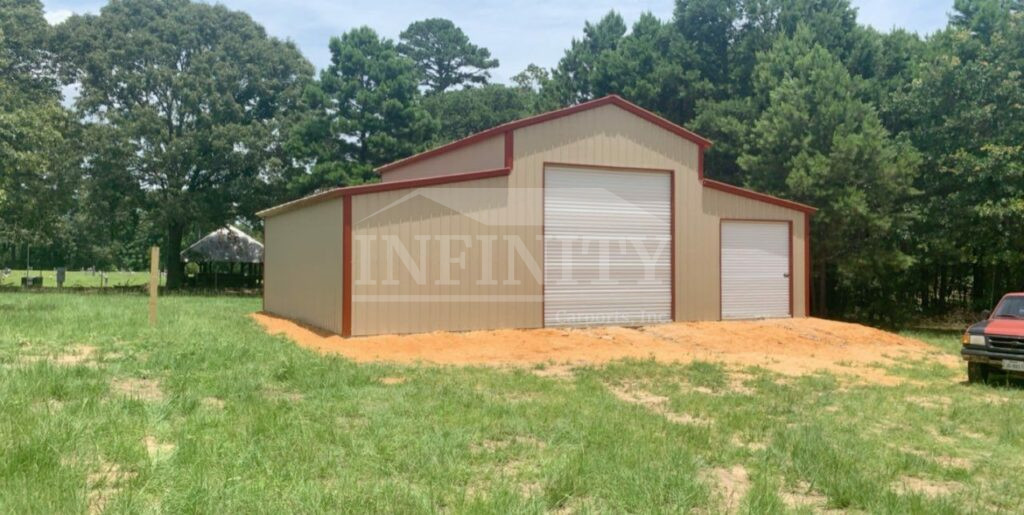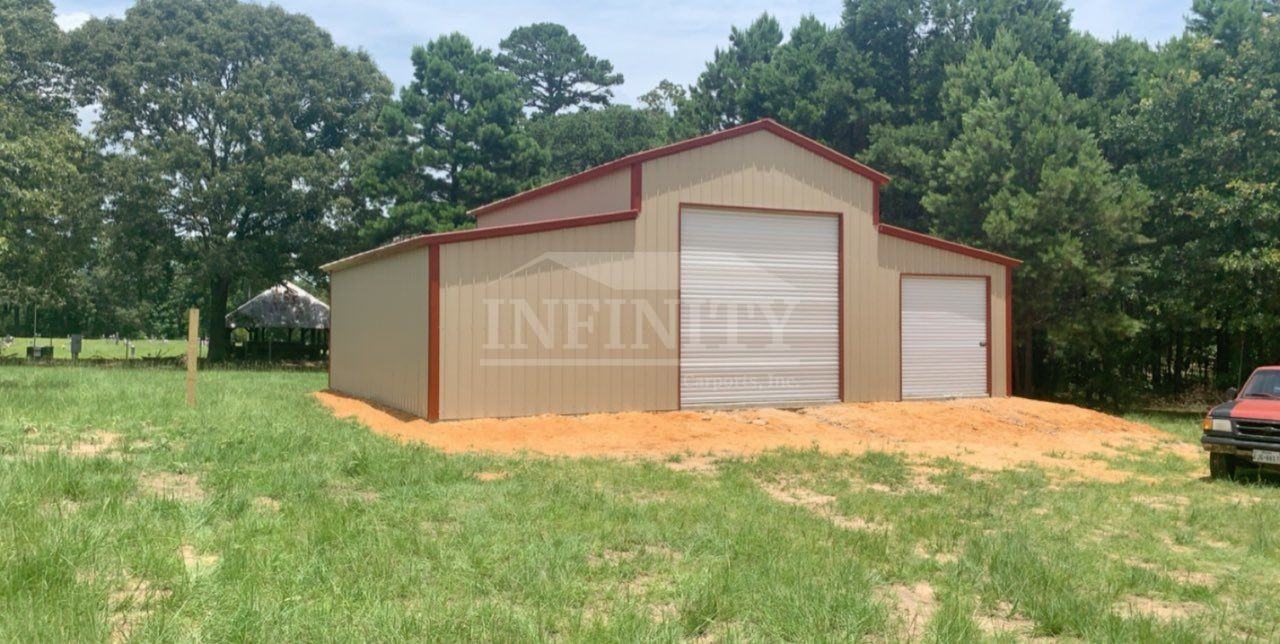 Vertical Roof Barns (Best)
Vertical roof barns provide the strongest option by having roof panels that run vertically. Not only does this help shed snow in areas of extreme winter, but it also maximizes the strength of the structure, allowing these metal barns to endure even the harshest of climates!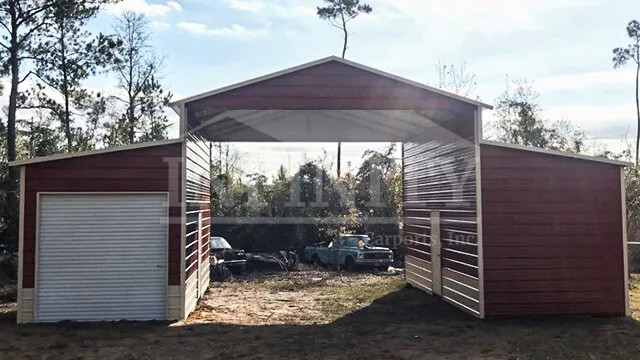 A-Frame Horizontal Barns (Better)
A-frame horizontal barns, on the other hand, take the idea of horizontal roof panels and improve on them by adding additional framework and sharper angles. These changes increase strength and better facilitate runoff, making them the clear choice for those living in areas that may receive some snowfall or heavy rain.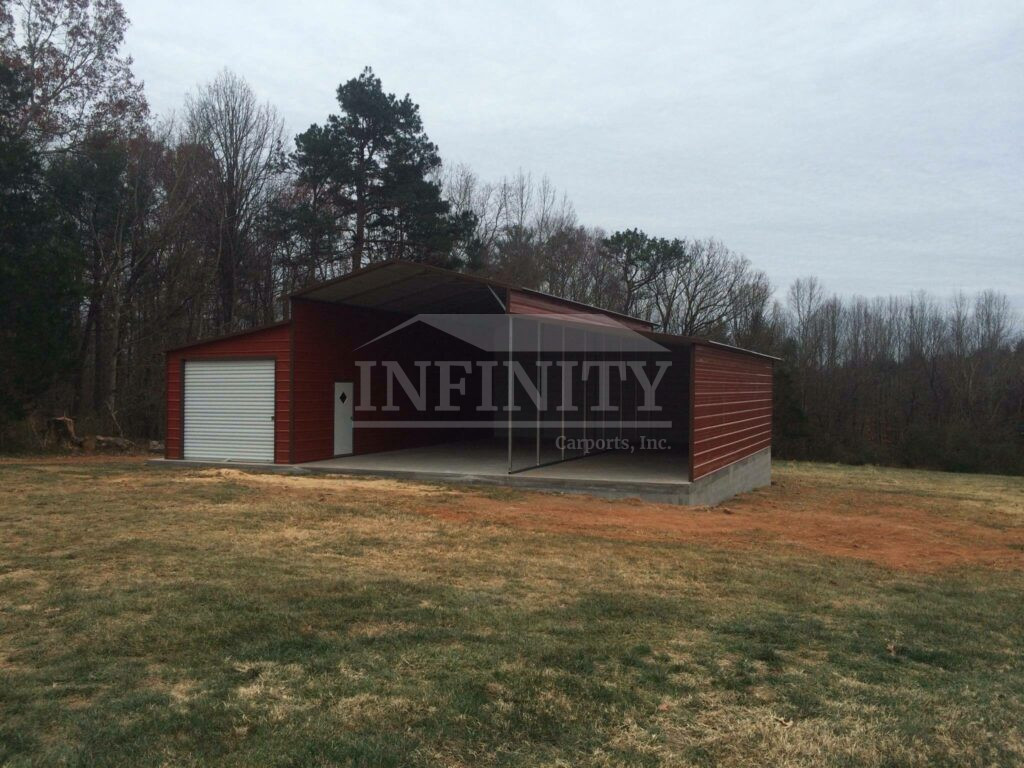 Customizing Your Barn
Did you know that aside from the size of your metal barn—which can be manipulated to your preferred width, length, and height—almost every other aspect of your steel barn can be customized to your exact specifications? You can, of course, choose your roof style (as we discussed earlier!), which will affect both the appearance and strength of your barn. To further increase the strength and durability of your metal barn, you can also choose between steel gauges, allowing you to manipulate the thickness of the steel from which your structure is built! Once you are happy with the structural integrity of your prefab steel barn, you can choose to incorporate doors and windows into the design, making the barn perfect for your needs and the intended purpose you have for it. Then, it's just a matter of choosing the ideal color scheme to make your new barn enhance the appearance of your property!
Impressive Versatility
The uses for a metal barn are truly only limited by your imagination. You can shelter livestock when necessary, keeping them safe from the elements. Storing feed is also a fantastic use of the space, especially during the colder months. They can also function as workspaces, providing the perfect opportunity to have your dream home office, workshop, or even indoor riding arena. To facilitate your needs—whether for work or for play—steel barns serve as ideal storage for large equipment, as well.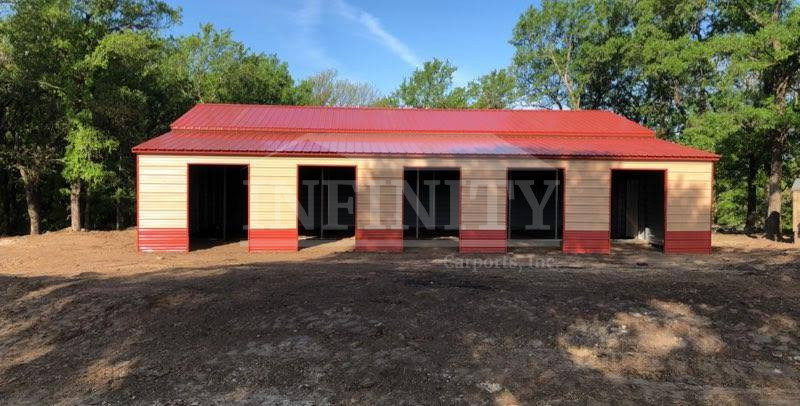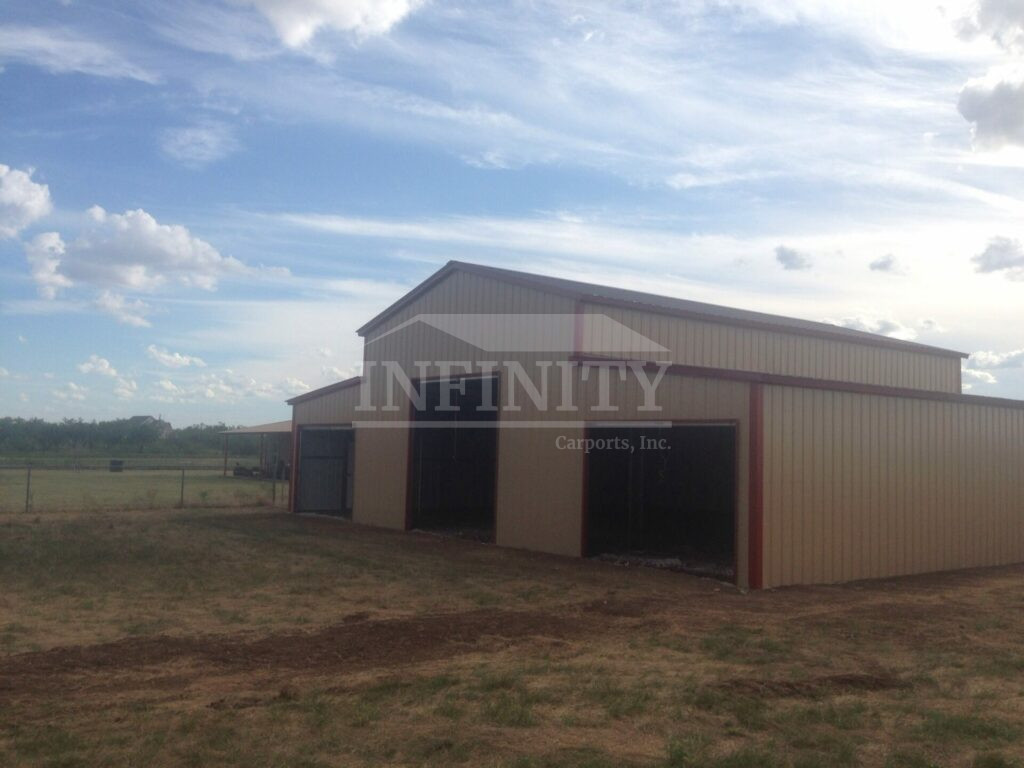 Select the Perfect Barn Building that will Serve Your Needs
If you are searching for the best possible solution for your space needs, look no farther than prefab steel barns. They provide remarkable space for an affordable price, making them the most cost-effective option for your property's needs. In fact, open barns start at just $6,000, while a closed barn with doors and windows will cost around $10,000. If you want more information on the tremendous benefits of metal barns or are interested in receiving a quote, feel free to contact us at (844) 324-1423. We'd love to hear from you and help your decision-making process in any way possible. As the best-established manufacturer in the metal building industry, Infinity Carports takes pride in its products and its customer service, but don't take our word for it—call us today and experience it for yourself!
Want To Know More?
Connect With Our Experts & Get Started With Your Dream Metal Building Project Today!