Protect Your Valuables and Vehicles With a Metal Carport
It's no secret that our vehicle, valuables, possession, and cherished items can't always fit into the safety of our homes (we know your spouse probably isn't keen on you bringing the lawnmower in when the sun goes down right?). But that doesn't mean that your outdoor valuables shouldn't be protected from the elements, from damage, from theft, and more. But how can you go about this? The solution—metal carports.
Metal carports are, well, exactly like they sound—they're galvanized, steel and metal framed structures that can help you cover and protect your valuables like your car, your RV, your boat, your outdoor equipment, and more. The idea? To ease your worries about the elements damaging your beloved items and keeping them safe, protected, and good as new. At Infinity Carports, we know how important protecting your vehicle and your valuables truly is to you—that's why we make the quality metal carports you need to keep the things you love (and need!) safe.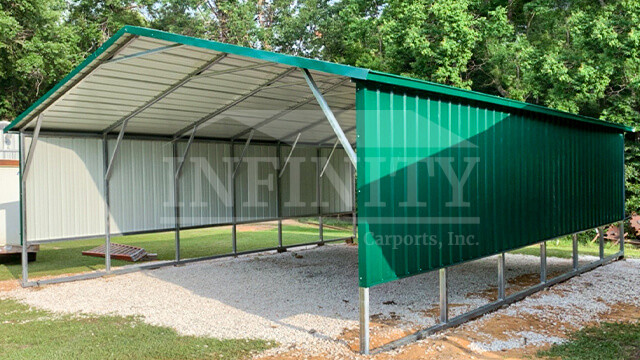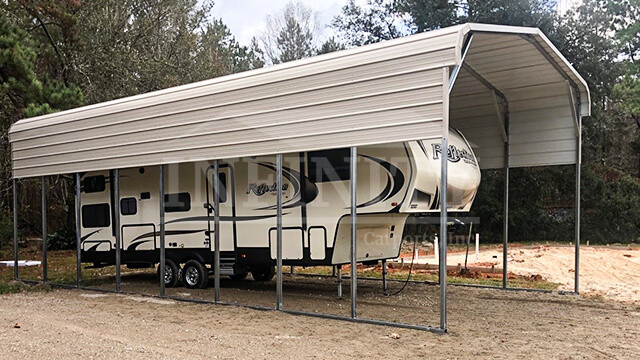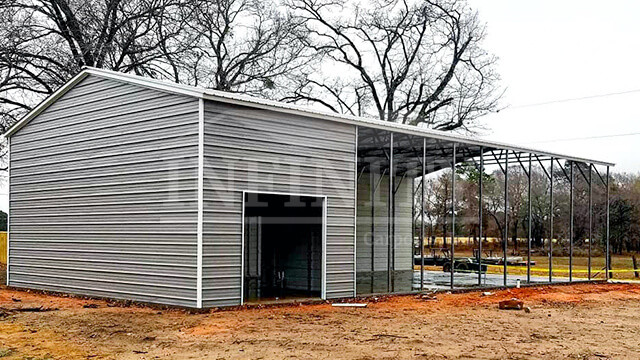 Custom Carports Available at Infinity Carports
All carports are going to provide you with some kind of structure to "protect" your valuables, but we'll let you in on a little secret—not every carport is created equally. At Infinity Carports, we know how vital it is to have access to the correct carport, which is why we go the extra mile to provide a wide variety of metal carports to fulfill our customers' unique and specific needs. You'll find a huge selection of carports in our inventory, including designs like:
Why You Should Buy a Metal Carport
So, aside from the very obvious fact that you can put stuff under the carport, what's the real benefit for buying a metal carport for your valuables and vehicles?

Weather Protection
Metal carports provide your cherished items the protection they need from inclement weather, wind, rain, sun, and other types of damage.

Multi-Purpose
Metal carports have multiple, varied uses. Protect your valuables, use it as storage space, create a unique section to your backyard—there's no wrong way to use your metal carport!

Free & Quick Installation
The quick-installation of these metal carports is another win—not only will you be able to protect your valuables, but you'll be able to set the carport up in a snap.

Affordable
If your primary concern is to protect your valuables from weather damage, a carport is the perfect, cost-friendly way to do it (your wallet will thank you!).
Roofing Styles — What You Need to Know
At Infinity Carports, we know that every customer is looking for something to meet their specific needs—that's why we offer a wide variety of designs. Part of that prerogative includes offering our customers options when it comes to roofing styles. At Infinity Carports, we offer roofing styles like: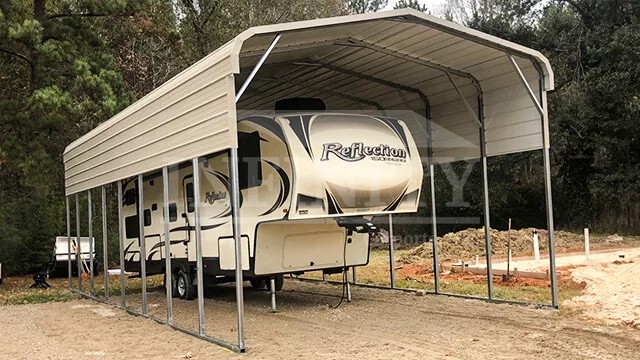 Regular Roof (Good)
These types of roofing options are often the most cost-effective choices. This style comes with horizontal metal panels that roll down the sides of the braces, providing extra strength to the structure.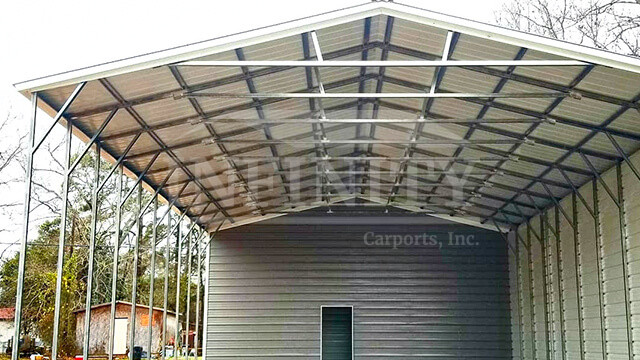 Vertical Roof (Best)
The vertical roof style is opposite of the regular or horizontal style—instead of the panels running horizontal, they run vertically. This is the strongest of the roof styles.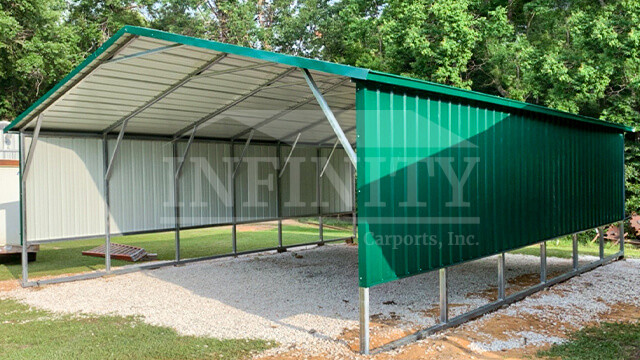 A-Frame Horizontal Roof (Better)
This is also known as the boxed-eave roof. With the A-frame style, the top of the roof will come to a peak and will have panels running horizontally.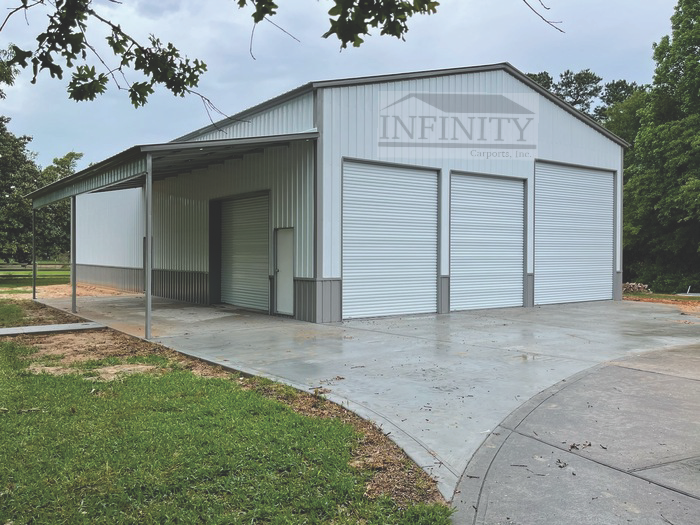 Customized Carports For the Win
The best part about Infinity Carports' metal carports? They're completely customizable. Gone are the days of one-size-fits-all—we know that doesn't work for everyone. Recently, we upgraded our design offerings with additional strength and support—but that's not the only customizable add-on. In fact, we offer a variety of different side and end panels, colors, gables, and trims. Want something entirely unique? No problem—we can create any type of metal carport you need!
Know What Matters—Certified & Non-Certified Metal Carports
Every customized carport is different, which means that every customized carport will be ideal for a different circumstance. When choosing your metal carport, it's important to think about certifications that matter when dealing with elements like wind speed, snow loads, as well as with factors like anchor types, space between support columns, trusses, and more. We can help guide you toward the right carport—whether it's certified or non-certified steel—and help you choose the correct carport for your purposes!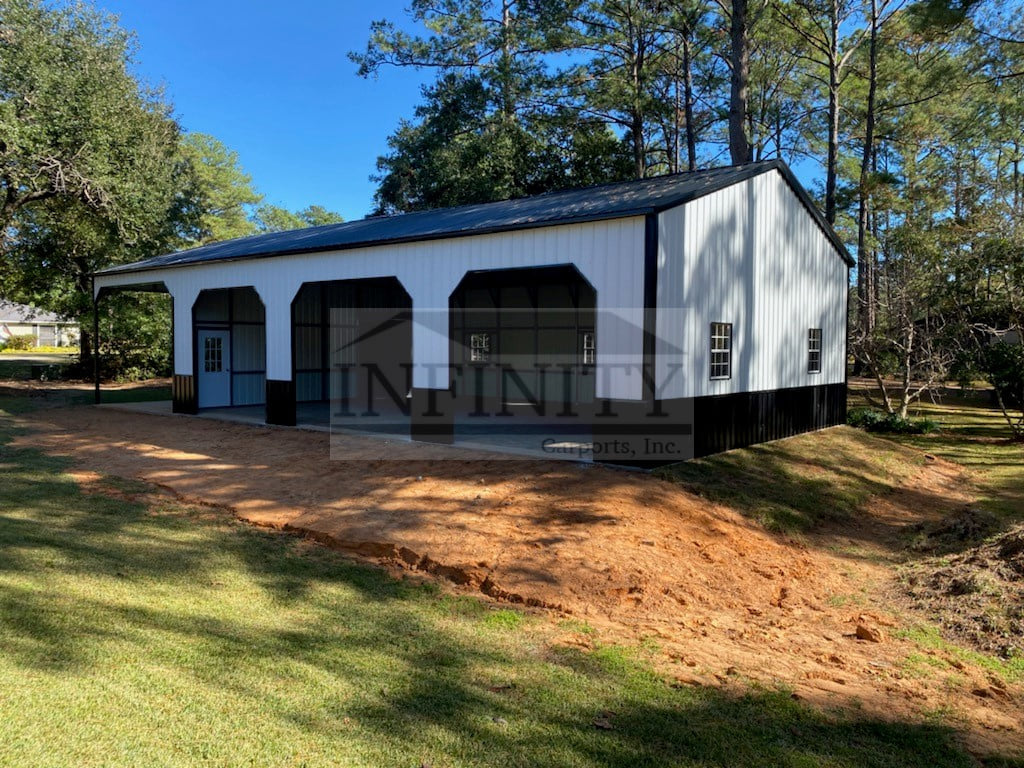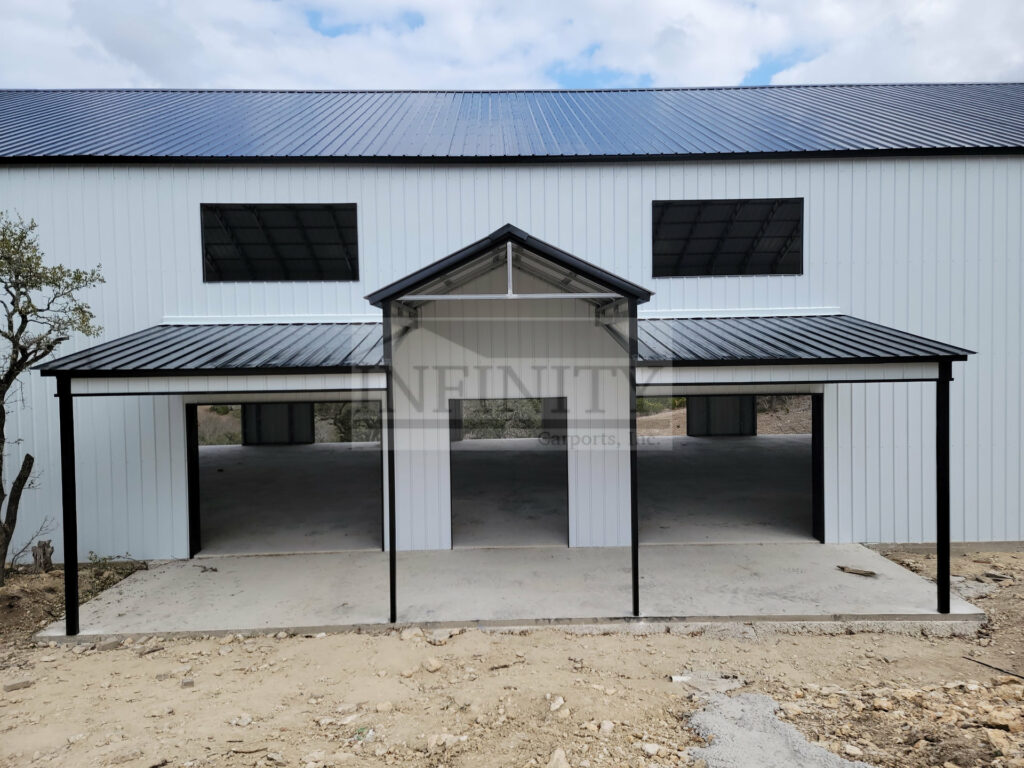 Sizes, Prices, and Options You Need to Know About
There are plenty of different sizes of customizable carports available—from 12'x21' to 24'x36', we essentially have it all. And, of course, you're welcome to customize your carport to the specific size you desire.
Metal carports—despite all of their customizable options—are affordable and cost-effective. The starting price of our metal carports begins at $1200. Additional rates will be added for size, roof style, added customizations, location, and more!
Buy a Metal Carport of Your Choice Today from Infinity Carports
At Infinity Carports, we know that every customer is different. We also know that every unique customer has unique needs. That's why we offer fully customizable options for our metal carports, ensuring that you'll get exactly the carport that's right for you. Ready to chat more about purchasing the perfect metal carport? Call one of our experts today on (844) 324-1423 to ask questions, get a quote, and learn more!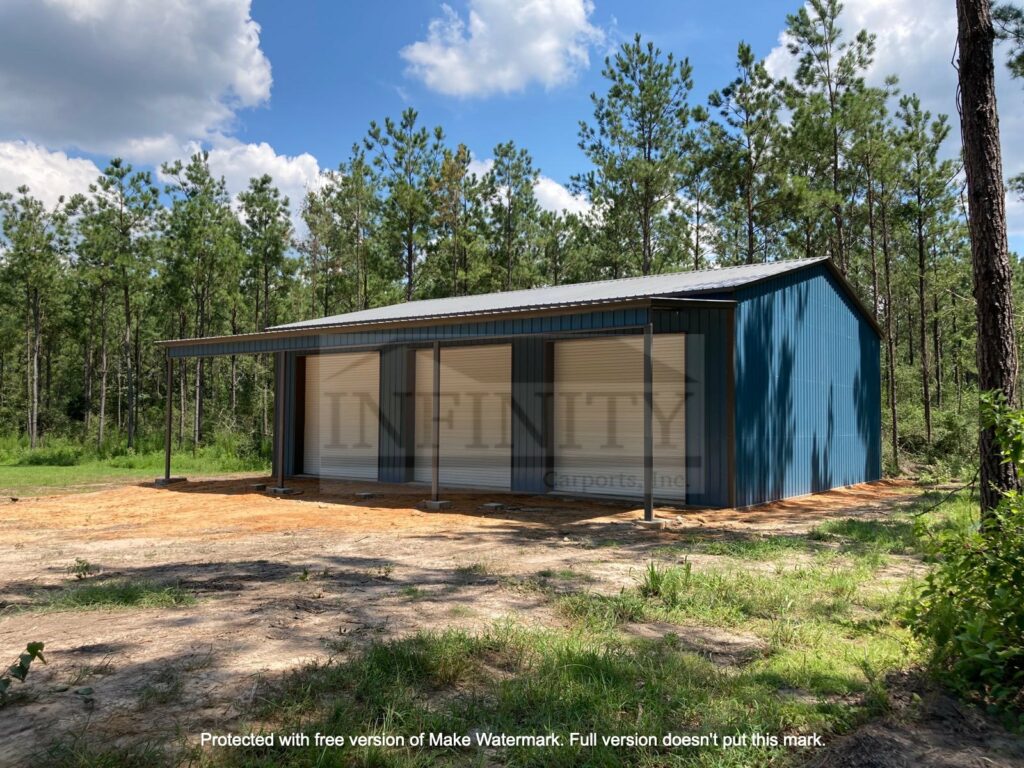 Want To Know More?
Connect With Our Experts & Get Started With Your Dream Metal Building Project Today!