Straight Roof Barns: Sectional Barns with a Sturdy Design
When it comes to metal barn styles, one clean design that many people like is the straight roof barn. Also known as continuous roof barns or Seneca barns, these sectional metal barns are defined by having all of their combined sections contained under a single, unbroken roof. This seamless roof design provides a level of protection that simply isn't available with a traditional sectional barn.
Fulfill Any Barn Need You May Have!
Straight roof barns are specifically engineered to be both rugged and functional, and can be used to meet any number of needs at home, on the farm, or at your place of business. Here are just a few applications for a continuous roof barn:
Many Reasons to Consider a Straight Roof Metal Barn
Some assume that since barns have traditionally been made of wood, that wood must be the preferred material for barns. Not so! There are many advantages to choosing a precision-steel straight roof barn over a stick-build. In fact, once you consider all the benefits of choosing steel as a building material, you may never go back to wood again: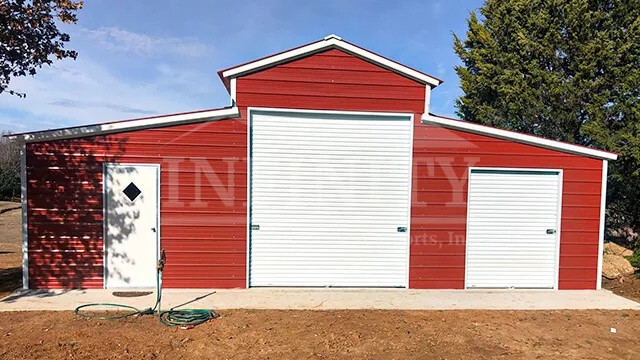 Add Your Own Personal Touches
Do you like the look of an A-frame (also known as boxed eave) roof? We can do that. Would you prefer your barn to be equipped with a better-reinforced vertical roof? Not a problem. And not only can you customize the dimensions of your building, you can also customize the size number, and functionality of your internal barn sections, too. You can leave some sections open, partially enclose them, or even fully enclose them. Add gables to your open ends, if you like. What colors would you like to choose for your roof, sides, and trim? We've got 14 color options you can select. How else would you like to customize? Just give us a call at Infinity Carports, we build every metal barn to order!
Infinity Carports Offers Both Certified & Non-Certified Steel Barns
What about certification? Whether you need your steel barn to be certified or not will really depend on your local area regulations, along with your own personal preferences. Steel structures are naturally stronger and more weather-resistant than wood structures by nature, but some areas also require your building to meet certain specified wind and/or snow loads. We can provide with you a strong, non-certified steel barn, or we can add reinforcements to produce an even sturdier, certified steel barn. Just let us know what you need, and we'll be happy to help. Not sure whether you need a certified barn or not? We'd also be happy to help answer any questions you may have about certified buildings.
Don't Wait – Let's Get Started on Your Straight Roof Barn Building Today!
Our name is Infinity Carports, but metal carports aren't all we do. We also offer garages, barns, workshops, and other custom-built steel structures. Here are some reasons to consider Infinity Carports:
If you're ready to get started with Infinity, give us a call at (903) 765-2057, or email us at infinitycarportsinc@gmail.com.
Want To Know More?
Connect With Our Experts & Get Started With Your Dream Metal Building Project Today!